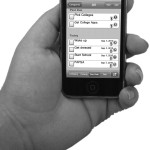 The rate of students attending college has steadily been growing since 1987. In the current year, roughly 33 percent of U.S. citizens are attending post-secondary education.
However, the percentage of college-bound students who completed the Free Application for Federal Student Aid, or FAFSA, is unfortunately not increasing at the same rate. Currently, just 8 million students have applied for FAFSA in the United States; a mere 20 percent of college-bound students.
FAFSA is the federal program that virtually all colleges use to determine a student's eligibility for federal, state, and college-sponsored financial aid. This includes, but is not limited to: grants, student loans, and work-study based programs.
There are several eligibility requirements a student must meet to receive FAFSA. For the complete list of requirements go to www.fafsa.com and click on the "Understanding FAFSA" tab.
The most crucial step of FAFSA is making sure it is turned in on time.
Students can begin submitting on January 1 of each year for the following fall. One can file at an earlier time on with the website and it will turn in the application for you on the appropriate date of January 1.
Each college has its own FAFSA deadline so it would behoove students to fill them out as soon as possible. Missing deadlines for FAFSA can devastate a student's chance of getting financial aid. Lastly students should keep in mind that the FAFSA must be filed each year to receive financial aid.
Story continues below advertisement