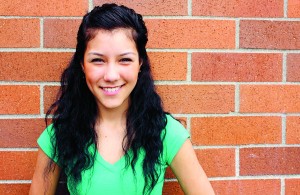 Gricelda Montes has been a highly involved student of Mountlake Terrace High School. She has participated in many school and extracurricular activities. At school, she is currently the president of the FCCLA club, the vice president of the Invisible Children club, and the secretary of the district Interhigh. She has been a member of the DECA club and the National Honor Society club for all four years she has been at Mountlake Terrace High School. She has also been an ASB representative, an Interhigh member for two years, a yearbook member, a Key Club member, and a cheer squad member during previous years at MTHS.
As for extracurricular activities, she has previously been involved in the Young Executives of Color at the University of Washington, a census project for Latinos, in which she talked to Hispanics about why the census is important. She was also involved with Esparanza En Educación (EEE), where she learned about the Hispanic culture at the University of Washington. She also was involved in the Summer Business Week at Seattle University, where she learned about business and professionalism.
Gricelda has also been recognized for her accomplishments through awards. She was earned the humanitarian award during her freshman year and the leadership award from cheer. She also excels academically by taking several AP classes: AP European History, AP U.S. History, AP Calculus, AP Chemistry, and AP Psychology.
She recently won the Mountlake Terrace Police Association Scholarship for $1,000. She is a first generation high school student by being the first person in her family to graduate from high school.
She plans to go to University of Washington this fall to study business. She wants to become a civil rights activist to help people in human rights.
Story continues below advertisement