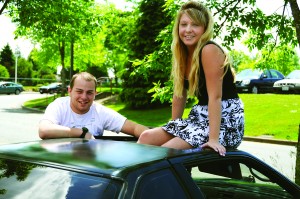 Most graduating seniors view going to live on campus at college an extremely difficult transition. To Ben Winters and Brittany Buxton, that is novice. They have been living entirely on their own for the majority of their senior year.
Aside from some child support funds and parental contributions they are successfully and stably living in an apartment in Bothell together. After domestic issues which resulted in no contact orders against their fathers the two decided to try to survive in the real world together rather than have to foot two separate rents and living expenses.
They pay for their cost of living through steady jobs as well as selling eggs from Winter's mother's chickens at a farmers market in Seattle. On top of their employment and self sustained living they balance school and extracurricular activities. Winters has been on varsity soccer since his freshman year and has served as goalie and a captain all throughout high school. Buxton has been a member of the hip hop team since her sophomore year at Terrace.
With all of their other responsibilities they have both found time to get a jump start in college through running start. Buxton has also done dental career work through Sno-Isle. Next year they will attend Eastern Washington University. Winters wants to pursue a career as a nurse and Buxton aspires to become a dental hygienist.
After an uneasy and unexpected shove into the real world they now feel quite comfortable and adapted to living on their own. When they manage to find free time they enjoy playing Mario Kart and going to movies as well as relaxing with yoga and Pilates.
While other students are nervously awaiting their fully parent funded dorm orientation Buxton and Winters are happily bustling about their apartment, years ahead of almost every student in maturity, wisdom, and responsibility.
Story continues below advertisement