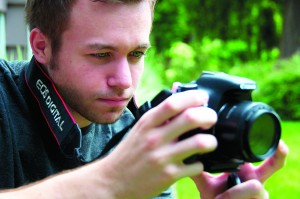 A trip to the movie theater, for most, is simply a escape from the mundane routine of their everyday lives; a chance to tune out and immerse yourself in thoughtless action and an ecstasy of lights, color, and sound. Breaking the trend of drool-faced teen movie watchers is 18-year-old Colby Larson.
Larson says he "enjoys going to a movie theater and walking out with a new lesson or moral." Unlike most teens Larson strives to draw inspiration from the movies he watches; all in hopes of setting his films apart in a new unique way.
Larson set out to make his own mark in the ever-growing movie business. Equipped with his Canon HV40 HD camera he drew the theme of the subconscious mind and its ability to tell your future from the film "Donnie Darko" and TV series "Kyle XY." Then combined his eye for cinematography to create (for his senior project) the short film "Dreaming with Zoey."
"Dreaming with Zoey" runs about 20 minutes long and stars Mountlake Terrace's own Gabriel Much and Maddie Flood. The film is about a young man whose girlfriend goes missing and through his dreams he picks up clues to find her location. The film can be viewed on Vimeo.com/colbylarson, just click on "Dreaming with Zoey." Larson enjoys editing and revising the movie in his free time, so be on the lookout for a revised version sometime this summer.
Larson's future plans include attending the film program at Seattle Central Community College next year. This summer he plans on combing his hobbies to produce some dirt bike and long board videos as well as doing freelance wedding gigs. Larson's passion for the filmmaking business combined with raw talent set him apart from the everyday crowd. We should all be on the look out for his movies hitting the big screen.
Story continues below advertisement