The 9th annual Iron Hawk Competition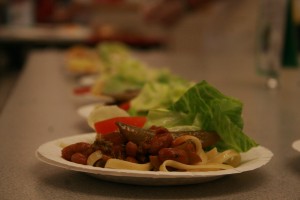 On April 29 2010, 14 of Mountlake Terrace High School's finest chefs paired up to compete in the 9th annual Iron Hawk cooking competition. Inspired by Iron Chef and other competitive culinary arts shows the event has developed an outstanding reputation and attracted attention from numerous students and staff as well as citizens and publications from the surrounding communities.
The competition is quite straight forward and leaves participants plenty of room to showcase their talents. Groups are given an hour and a half to complete a preplanned dish that a panel of highly reputable judges will score. Each group receives an award with the overall winner moving on to compete in the district cook-off at Edmonds Community College on Thursday May 6.
This year's adjudicators were all significantly well experienced in the culinary field. The three adjudicators consisted of Tana Baumler, owner of the Maltby Café; Shawn O'Donnell, owner of Shawn O'Donnell's Restaurant; and Kary Nelson, a chef and caterer. The Master of Ceremonies for the event was MTHS FACSE teacher Kimberly Nelson. She commented that "this year's was the hardest one to judge ever." The judges took almost an hour to come to their final decisions because the final scores for each group were literally within points from each other.
Finally, after much anticipation, Ms. Nelson returned to the cooking room with the final results. Airy Lowery and Jocelyn Leggett were awarded Best Appetizer for their dish of tropical bacon water chestnuts and tilapia in the dark fish tacos. The High Mountain Chef award was given to Andrew Pung and Jack Clinch for their meal of Asian cucumber salad and venison stir fry with rice. Jamie Wilson and Adara Castleton received the award for Best Presentation with their dish of homemade caeser salad and nutty fettuccine alfredo with chicken and fresh tomatoes. The group that earned the Best Side Dish award was Trung Banh and Beau Kennedy with their preparation of Congee soup and Asian beef with green bean stir fry over rice. The best taste award was given to Sean Rose and Jack Clinch for their elaborate meal of sautéed mushrooms and onions on toasted baguette and grilled sirloin steak with garlic cream sauce over freshly made pasta with red onions and bell peppers. Steve Hinkle and Barrett Rayan received the "Please we all want your recipe" award for their sweet and sour salad dressing that they put on their chop salad and served alongside Cajun vegetable stir-fry over fettuccine.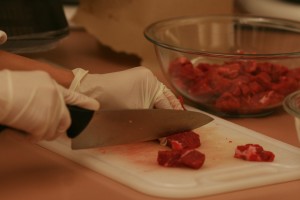 After all the minor awards were given out there was only one group left… group number two. The pair of Melvin Banuelos and Paulina Corona won the 9th annual Iron Hawk. Oddly enough Benuelo's original partner fell ill and he had to quickly find a replacement. It turns out the two made a tremendous serendipitous duo.  Banuelos was overjoyed almost to the point of shock. He proclaimed after the awards ceremony that he "never expected [it] to happen." Corona, his partner, also had some modest words to share about the experience. "It doesn't matter how good you cook or how well you present. As long as you have fun and love what you're doing."
Other participants shared their feelings as well as some words of advice for future competitors. Barrett Rayan commented that "it was extremely fun. There was good competition, great chefs, and each dish was amazing. Overall it was a great Iron Hawk." His words of advice are to "take it slow. Don't get nervous and rush things because something will go wrong." Airy Lowery also inputted her advice of "practice makes perfect. Never be afraid to try something new." Trung Banh had a tremendous time with the experience and happily stated that "anyone who can cook should try it."
Judge Kary Nelson also had some professional advice to share. "It's not just about the flavor. Habits and preparation complete the package. Sanitation is a key factor that many contestants were not up to par on." Indeed, as Nelson stated, taste was only one of the numerous categories judged. Sanitation techniques were weighted just as heavily in the judging as taste.
This year's turnout was much larger than the previous two years and should continue to grow each year. With Chef III students catering to customers throughout the area the MTHS culinary arts department is making quite a name of itself. Its reputation for excellence was once again strengthened through another great competition and should continue to flourish for years to come.