Rep. Larsen gets firsthand look at STEM program
From robots to wind tunnels to 3D printers, Congressman Rick Larsen saw the many facets of STEM (science, technology, engineering, mathematics) education at MTHS when he visited yesterday.
Part of Larsen's tour of STEM education programs in Washington's second legislative district, Larsen spent nearly and an hour and half talking with administrators and teachers, but principally with STEM students.
Larsen began his tour of STEM classes speaking with students about their STEM projects and tools used in the classroom. He learned about laser cutting from freshman Ian Davidson, wind tunnels from junior Gabe Miller and also from juniors Thu Phan and Lina Defersha, remote controlled robots from  juniors Gurminder Singh and Taron Castleton, among many others.
Larsen even took Singh and Castleton's robot for a test drive.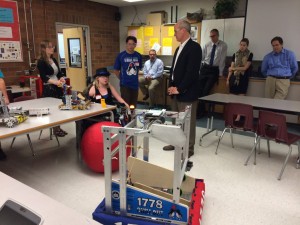 Larsen also spoke with members of extracurricular STEM activities, including FIRST Robotics, Technology Student Association and Rocketry.
Larsen said STEM education is very important for a growing number of careers.
"Most of the jobs in the future will involve some level of STEM. It's not just computer programmers or tomorrow's engineers," Larsen said.
"Auto mechanics of the future need to have some level of STEM education because of the increasing complexity of how cars are built and how they run. Nursing programs have to include elements of STEM education because of the use of the technology to provide healthcare in the future," he continued.
"So it's not just the matter of building the next rocket or being the next theoretical physicist on par with Einstein."
Larsen also visited Marysville Middle School, to speak with administrators regarding the school's STEM and Career and Technical Education programs, and Everett Community College's Advanced Materials Training and Education Center.
Leave a Comment
About the Contributor
Nick Fiorillo, Editor-in-Chief
Nick Fiorillo is the Editor-in-Chief of the Hawkeye and thehawkeye.org. This is Nick's second year of serving as editor. Last year, he led the Hawkeye...