Friends, family gather to celebrate the life of Forest Jackson
Family, friends and members of the MTHS community gathered at St. Catherine of Sienna Catholic Church in north Seattle this morning to celebrate the life of 2011 graduate Forest Jackson.
Jackson, 20, was killed on March 29 at his residence in Mountlake Terrace.
The Mass, open to the public, drew a capacity crowd in the Roosevelt-area parish. As pews quickly filled up, many stood around the church's perimeter to take part in the celebration.
The Mass included members of Jackson's family and friends taking part in the readings and other key parts of the service, including his aunt Cathy. Earlier in the week, she said that Forest, "[was] the sweetest boy who grew into a silly, kind and loving young man. He had such compassion for others, he felt empathy for those who faced struggles in their lives and didn't have it easy, and he had a heart so huge that he reached out to the very person who would harm him."
"His smile was beautiful and his laugh was contagious. I could not be more proud of him, and miss him from the bottom of my heart," she said.
Just prior to the end of the Mass, several family members and friends shared their memories of Forest. Speakers included his mother, Cathy, and his sister, Micha, who is a senior at MTHS.
Both shared early memories of Forest's childhood, bringing both tears and laughter to those gathered in the sunlit nave.
Many of the speakers alluded to Forest's musical talent and passion. Other speakers included his uncle and fellow classmate Ira Wahlmeier. Sweet sounds of jazz were played before and after the service – including live recordings of Forest performing with Jazz Ensemble 1.
After the service concluded, the attendees were invited to a reception for refreshments and reminiscence. Members of the 2011 Jazz Ensemble 1 performed at the reception, filling the room with the sounds of jazz. Jackson was a member of the 2011 Jazz Ensemble 1 group and an award-winning saxophonist. He received an outstanding soloist award at the 2011 Essentially Ellington Jazz Festival in New York.
Forest was baptized at St. Catherine of Sienna Church – the parish where his grandparents had been attending for more than 50 years.
RELATED STORY: Friends, family and MTHS staff remember Forest Jackson
Do you have memories of Forest Jackson that you would like to share? If so, comment below or email [email protected]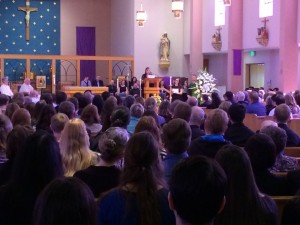 About the Writer
Nick Fiorillo, Editor-in-Chief
Nick Fiorillo is the Editor-in-Chief of the Hawkeye and thehawkeye.org. This is Nick's second year of serving as editor. Last year, he led the Hawkeye in one of the organization's most dramatic transformations in decades, replacing the broadsheet newspaper with a feature based newsmagazine and an emphasis on online content.
Prior to serving as editor-in-chief, Nick was the local news editor during his sophomore year and was a staff reporter during his freshman year.
Nick was named as the 2014 Free Spirit Scholar from Washington state, and traveled to Washington, D.C. as the Washington state delegate to the 2014 Al Neuharth Free Spirit and Journalism Conference. He has received several state and national awards for journalism, including several JEA National Write-off Competition Awards. He was recently awarded the rating of "Superior" for Editorial Writing at the Spring 2014 JEA/NSPA High School Journalism Conference in San Diego, Calif.
His interests include journalism, politics, public policy, law and education. He plans on attending a four-year university and majoring in political science and social policy.
You can view his pressfolio here.
Twitter: @nick_fiorillo
LinkedIn: Nick Fiorillo