Bands arrive at "the happiest place on Earth"
All four MTHS bands arrived in Anaheim, Calif. on Thursday at approximately 1 p.m. to perform a concert at the Big Thunder Jamboree Stage on Friday on April 4. The traveling party consisted of 59 band students.
The Wind Ensemble will perform at 11:55 a.m., while the Jazz Ensembles' performance is scheduled for 1:35 p.m.
They will stay for four nights, five days and will return on Monday, April 6 at 8:10 p.m. The band will stay at the Best Western Park Place Mini Suites, which is just across the street from Disneyland park and many places to eat and shop.
Band members said they are very excited for the trip. The band room has held a countdown every day on the whiteboard for nearly five months and today '0 days until Disneyland' was displayed.
"I don't even know where to go first," freshman Joshua Leben said.
Although some worried about making up school work, most band members spent the morning discussing what rides to go on at the park, and what they would buy.
They will have a free day on Saturday, April 5 to spend at Disneyland and will attend workshop on Sunday, April 6 with a guest talent coordinator. The Wind Ensemble's workshop is at 3:00 p.m. and the Jazz Ensemble's is at 5:00 p.m. Any free time they have, they are able to spend at Disneyland or anywhere near the park.
The band's next trip will be to Silverwood Theme Park in northern Idaho.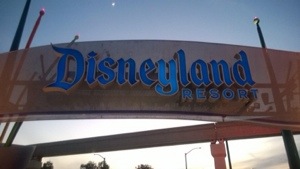 About the Writer
Stephi Smith, Executive Editor
Stephi Smith is one of the co-Editors-in-Chief of the Hawkeye. Her official title is Executive Editor.
This is Stephi's fourth year on the Hawkeye. Last year, she created a Hawkeye Snapchat account with the hopes of advancing the organization's coverage of online and social media reporting.
Prior to serving as Editor, she was the News Editor her junior year and Copy Editor her sophomore year, as well as taking the lead on the Crime and Police beat. During her sophomore year, she attended the JEA National Convention in Washington, D.C. where she learned she wanted to be a journalist. Since then, she's fallen in love with reporting and reported on many different kinds of stories, from School Board meetings to sexual assault on campus.
Next year, Stephi will be attending the University of Missouri with a major in Journalism. As a career, she hopes to report on either crime, government and politics or education.