Friends, family and MTHS staff remember Forest Jackson
Many members of the MTHS community have been devastated by the death of 2011 graduate Forest Jackson.
In the hours and days after hearing the troubling news of his death, many of Jackson's friends, family members and former teachers have shared their thoughts and memories of Jackson.
Jackson is remembered predominantly for his passion for music, specifically jazz, and his kind personality.
"I think [he contributed to the school] through his work in our music department," principal Greg Schwab said. "He was an incredibly talented musician and that was an area where he was able to stand out, in addition to just being a good student. He found his niche in our music program – found a place to belong and a place to shine."
Teachers who had Jackson as a student also remembered him for his love and talent for music.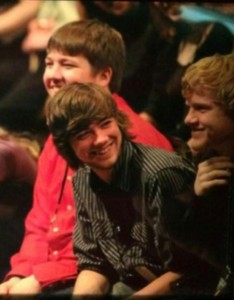 "I was impressed with his dedication to music, and it wouldn't have shocked me if he went on to do something really impressive with music," Jessica Walton, Jackson's senior personal finance teacher, said. "He seemed like a very bright person, was very mature, seemed to have a strong group of friends – he was just a really nice kid."
MTHS band director Darin Faul had Jackson as a band student for the duration of his time in high school, and again remembered Jackson for his passion for music, as well as the fact that, "he was always great to be around." "Our thoughts and prayers are with his family and friends. His death is so sad and impossible to understand…He will be missed," Faul wrote on the MTHS BANDS Facebook page.
On April 1, Jazz Ensemble 1 played a special tribute to Jackson, who was an award winning saxophonist. Before Jazz 1 played, Faul shared his memories of Jackson with the audience. "It's unbelievably difficult to figure out how to proceed," Faul told the audience. Jazz 1 played Count Basie's "Swingin' the Blues," the song on which Forest Jackson received an excellent soloist award at the 2011 Essentially Ellington competition in New York. Junior Jacob Krieger played Jackson's solo, in a powerful performance that ended with a standing ovation from the audience.
Family and friends of Jackson also said they remembered Jackson as a kind and talented young man.
Frank Hume, one of Jackson's "best friends from high school" and another 2011 graduate, described him as "an amazing person." Hume, who was in the MTHS Jazz 1 Music Ensemble with Jackson, said that it was in jazz that they became such great friends.
"He was a great friend, great musician and was capable of being an amazing person, and he was," Hume said. "[Jackson's death] is just a big loss to the community… He will be missed."
Cathy Jackson, Forest Jackson's aunt, also remembered him as an amazing person.
"[He was] the sweetest boy who grew into a silly, kind and loving young man. He had such compassion for others, he felt empathy for those who faced struggles in their lives and didn't have it easy, and he had a heart so huge that he reached out to the very person who would harm him. His smile was beautiful and his laugh was contagious. I could not be more proud of him, and miss him from the bottom of my heart," she said.
As the entire community is feeling repercussions from this occurrence, the MTHS counselors are "aware of what is going on, and they are available to support students," Schwab said.
He added that additional support resources will be brought in if there is need for them.
"I think we're mostly just ready [to help]. It's one of those things that's hard to predict how people are going to react to it," Schwab said. "Grief is funny thing; everybody deals with things differently. Sometimes grief happens long after. It takes time to process something like this."
Jackson's memorial service will be Monday during the 11 a.m. mass at St. Catherine of Sienna Catholic Church, located at 814 NE 85th St. in Seattle. The Jackson family said anyone is welcome to attend the service.
RELATED STORY: Drugs a key factor in former student's homicide
Nick Fiorillo contributed to this report.