Band plays sendoff to Disneyland, tribute to Jackson
It was no ordinary concert. That's for sure.
It has been an exciting, intense and saddening couple of weeks for the bands at MTHS. Jazz 1 members were excited from their third place finish at Swing Central jazz festival in Savannah, Ga. Other band members were excited for their upcoming trip to Disneyland. But the bands were dealt some terrible news on March 29 when they learned that 2011 graduate Forest Jackson, a former saxophonist for Jazz 1, was killed on March 29 at his residence in Mountlake Terrace.
The evening began at 7 p.m. in the MTHS theater with the concert bands performing a selection of Disney music.
Band Director Darin Faul said Tuesday's concert was a "sendoff" for the band, as they leave for Disneyland in Oakland, Calif. on Thursday. Faul said 59 students will go to Disneyland for a 30 minute performance in Disneyland's park and for a workshop in which students will quickly learn and record the soundtrack to a film.
The Disney music included arrangements from "The Lion King," "Frozen" and other recognizable tunes.
Jazz 2 played a series of uptempo selections which they plan to play at Disneyland.
Jazz 1 played three songs  before the finale. Faul noted the band's recent trip to Savannah, Ga. where Jazz 1 took third place in the Swing Central Jazz Festival.
"It was a great trip, we had a lot of fun and heard some really really good music," Faul said. "It was something else, this trip we took."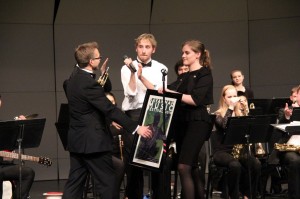 The end to the concert brought an emotional tribute to 2011 graduate Forest Jackson.
Faul shared the news of Jackson's death and his importance to the MTHS band program during his time at MTHS. Faul said he learned about Jackson's death while Jazz 1 was in Savannah, Ga. for the festival.
SEE MORE: Drugs a key factor in former student's homicide
"It's unbelievably difficult to figure out how to proceed," Faul told the audience.
Jazz 1 played Count Basie's "Swingin' in the Blues," the song on which Forest Jackson received an excellent soloist award at the 2011 Essentially Ellington competition in New York.
Junior Jacob Krieger played Jackson's solo, in a powerful performance that ended with a standing ovation from the audience.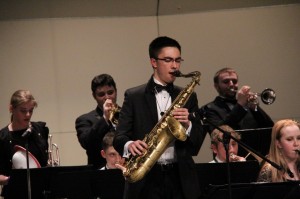 About the Writer
Nick Fiorillo, Editor-in-Chief
Nick Fiorillo is the Editor-in-Chief of the Hawkeye and thehawkeye.org. This is Nick's second year of serving as editor. Last year, he led the Hawkeye in one of the organization's most dramatic transformations in decades, replacing the broadsheet newspaper with a feature based newsmagazine and an emphasis on online content.
Prior to serving as editor-in-chief, Nick was the local news editor during his sophomore year and was a staff reporter during his freshman year.
Nick was named as the 2014 Free Spirit Scholar from Washington state, and traveled to Washington, D.C. as the Washington state delegate to the 2014 Al Neuharth Free Spirit and Journalism Conference. He has received several state and national awards for journalism, including several JEA National Write-off Competition Awards. He was recently awarded the rating of "Superior" for Editorial Writing at the Spring 2014 JEA/NSPA High School Journalism Conference in San Diego, Calif.
His interests include journalism, politics, public policy, law and education. He plans on attending a four-year university and majoring in political science and social policy.
You can view his pressfolio here.
Twitter: @nick_fiorillo
LinkedIn: Nick Fiorillo