March 2014 students of the month
By Erick Yanzon
April 1, 2014
The Edmonds School District selects two students each month to each of the high schools to recognize their accomplishments and achievements. Go to the ESD website for the complete list and information for the March 2014 students of the month.
Student's name: Wyatt Allemann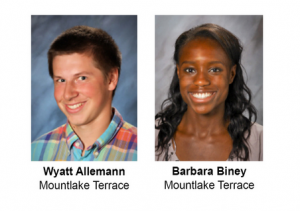 Mother's Name: Julie Allemann
Father's Name: Bill Allemann
GPA: 3.5
Clubs and Activities: Key Club; Link Crew; National Honor Society
ASB: Inter-high Representative for the past two years
Athletics: Cross Country, swim team, baseball
Honors: Second team All-Wesco Cross Country as a junior and senior; All-Wesco Honorable Mention Baseball as a junior; Captain of cross country team as a senior; Swim team captain, junior year.
Community Service: Camp Counselor at First Swing baseball camps; Key Club food drives; helping out at homeless shelters and senior centers.
Culminating Project: College Application Portfolio
Current Employment: Lifeguard/ Swim Instructor at the Lynnwood Recreation Center
Future Educational Goals: To obtain a bachelor's degree in business marketing/economics and then attend graduate school.
Future Career Goals: To work as a marketing manager in a corporate setting.
Student's name: Barbara Biney
Mother's Name: Grace Biney
Father's Name: Stephen Biney
GPA: 3.89
Clubs and Activities: I am Key Club President and was previously Vice-President and member.
I direct over 13 service projects annually. The school's Key Club is currently involved in multiple activities. The group is spilt up in to four groups. Each group is assigned to one of the following projects: toiletry drive, glasses drive, valentines for staff and stuffed animals drive. Our Key Club has 54 members and is the most diverse club in District 21. I've also been Vice President of the Black Student Union the past few years and was a member my freshman year. My position includes recruiting members for the NAACP, planning meetings and organizing projects. The club was recognized by Edmonds School District School Board for community service. I served as Edmonds School District Board of Directors Student Advisor as a junior.
During my term, I attended school board meetings and represented student opinions on issues like boundary changes, school uniforms and the new teacher evaluation system. I also assisted with communication among the school board and teachers, students and administration.
Athletics: Varsity track since my freshman year. My events are 100m, 200m and long jump. I am a track captain at my school and have participated in this sport for five years. Outside of school, I am on a track team named Flying Aj's. Practices are held in Tacoma but I live in Mountlake Terrace. Because practices are so far away, I travel there once a week and for the remaining days in the week, I practice on my own. I spend 2.5 hours per practice six times a week. I am ranked as one of the top 50 sprinters and jumpers in the nation. I am a three-time regional qualifier and qualified and participated at Junior Olympics Nationals. I placed second at state and third at regionals.
Honors: I've been an Alexander Hamilton Scholar as a junior and senior and a member of the National Honor Society my sophomore, junior and senior years for community service and academic excellence. I also was selected as the January Rotary Student of the Month my junior year.
Awards: I was selected as a Talented Tenth Scholar, which means I am one of the top 10 African American applicants to the University of Washington. I received an Edmonds School District Student Advisor Scholarship my junior year. I received a Presidential Volunteering Award as a sophomore for completing more than 100 hours of community service.
Community Service: I volunteered at Swedish/Edmonds Medical Center as a sophomore and junior. My responsibilities were filing in the Health Information Department, managing the front desk and interacting with patients through leisurely activities. I've been a math tutor. I tutored during summer, 2012 through the Edmonds School District Summer Math Tutoring Program. I worked with grades K-12 and completed over 80 hours of service. Peer Mentor – I was a peer mentor, and that is someone who helps students diagnosed with Asperger's syndrome with their assignments and supporting them through social interactions.
Culminating Project: I tutor students in grades 9-12 after school in the school library twice a week. I am also in charge of advertisement of the program and recruiting people to tutor.
Current Employment: Fred Hutchinson Cancer Research Center lab assistant and intern.
During the summer of 2013 I interned in the Breast Cancer lab. As an intern, I was paid and I worked 40 hours a week. In the lab we preformed immunohistochemistry, RT-qPCR and DNA extractions. After my internship, I was hired in the Stem Cell lab, where I completed tissue culture, DNA extractions, and gel electrophoresis. I also learned how to karyotype and use the nano-drop machine; Courtesy Clerk, QFC – My job includes cleaning bathrooms, bagging groceries, stocking shelves, and assisting customers as needed. During my internship and employment at Fred Hutchinson Cancer Research Center, I have been working a day a month to keep my job. Working at QFC gives me an employee discount, which allows some financial leeway for my family when purchasing groceries. Before my internship and employment at Fred Hutchinson, I worked 16 hours a week.
Future Educational Goals: I plan to obtain a molecular biology degree. Afterward, I plan to attend graduate school and study infectious diseases.
Future Career Goals: My time at Fred Hutchinson Cancer Research Center made me realize that I had a passion for viruses. This epiphany came to me after I went to a lecture about genetic engineering. It sparked my curiosity in viruses, and with my passion from helping people I came to my new conclusion: to participate in major HIV/AIDs research and advocate for HIV/AIDs awareness.