Leppich shows true expression in music
By Shannon Beaumont
March 18, 2014
He's played gigs, he's traveled and he's won awards, yet Ryan Leppich is just a junior, making his way like everybody else, only he uses his passion for drums as a guide.
Drumming wasn't his musical beginning, however. In the 5th grade, Leppich was told to pick an instrument and was drawn to the trombone because he "thought the slider was really cool."
His mind was quickly changed in 6th grade when the MTHS band paid a visit to Hilltop Elementary School. Leppich got his first vision of drumming and immediately switched instruments.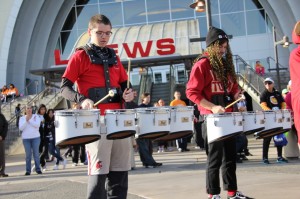 "I was really excited about it," he said.
In 7th grade, Leppich began his drumming career with lessons on the snare drum, and in 8th grade he was promoted to the middle school jazz band.
Upon entering high school, Leppich became a member of the MTHS drumline and Jazz Ensemble 1, through which he met MTHS alumni Reign King, Taylor Griffin and Kyle Scherrer and began a quartet to occupy his musical interest outside of school.
"[Griffin] and [King] were juniors my freshman year and I was in Jazz 1 and we are all in the rhythm section. [King] played bass and [Griffin] played piano, and we played with [Scherrer], too. He played guitar. So we would play as a quartet at a lot of places," Leppich said.
With age separating the group, members had to leave the quartet for college, but Leppich never let that deter him. "Over time, me and Taylor played with different bass players and I played with different piano players and it was always a mix," he said.
"[Choosing songs] is a collaboration," Leppich said. "We all have favorites we like and we argue about it sometimes, but it's a group effort."
Most Friday nights, Leppich can be found with his current trio at Voula's in Mountlake Terrace, entertaining the crowd with jazz.
When Leppich's not playing at Voula's, he's playing all around the state and country with Jazz 1.
As a freshman, Leppich traveled with MTHS Jazz 1 to New York for Essentially Ellington, a high school jazz band competition. Jazz 1 was one of 15 bands chosen from across the country to attend.
Not surprisingly, the amazing opportunity has been Leppich's favorite musical experience. "Essentially Ellington was such a welcoming environment; everybody was so friendly and was just there to make music and have fun with each other. It was really fun," Leppich said.
At Essentially Ellington, not only did Leppich earn an Outstand Soloist Award and an Outstanding Rhythm Section Award, but the awards were granted to him by none other than jazz legend Jeff Hamilton.
"I met Jeff Hamilton who's one of the biggest names in jazz," Leppich said. Since then, Leppich has studied with Hamilton and even performed a duet with him.
Hamilton isn't the only legend Leppich has worked with, however. According to his website, www.ryanleppich.com, he has also worked with a number of other artists, including: Bria Skonberg, Terrell Stafford, Ingrid Jensen, Aaron Parks, Chad McCullough, Dawn Clement, Justin Didioccio, Mark Taylor, Rich Perry, Ron Carter and Steve Owen.
A year after Essentially Ellington, Jazz 1 went to Vancouver, Wash., to perform at the Clark College Jazz Festival where Leppich received an Outstanding Musician Award.
Even more, Leppich has been an active member of drumline throughout high school. In early October, Leppich participated in the ESD battle of the drumlines where Leppich and the rest of the MTHS drumline took 1st place, winning $500 for the band department.
Ahead, Leppich looks forward to competing in the Swing Central Jazz Festival in Savannah, Ga., a competition where just 12 bands across the country are invited to attend.
As a junior, Leppich has just one full year left as a member of Jazz 1, but he's not ending his drumming career when he collects his diploma; Leppich has a dream to go to Manhattan School of Music to study jazz.
After college, Leppich plans to play gigs all around the country with different people, pursuing his passion as a career.
"There are jazz scenes all over the U.S., but I think it's biggest in Seattle, New York and maybe Chicago. [I just want] to find chances to play with people and come back and play with old friends," Leppich said.
Eventually, Leppich hopes to create his own music, a difficult task that he's attempted a few times already. "I've worked with piano players and [written] drum parts for songs, but not a specific melody." Leppich definitely sees it in his future though as he said, "It'd be really cool, and it's something I want to do eventually."