New details in homicide of former student
Updated March 30, 9:38 p.m.
Family members confirmed that the victim of Saturday's homicide in Mountlake Terrace was 20-year-old Forest Jackson, a 2011 MTHS graduate. He died after being stabbed multiple times, according to police.
Police said they received a call from a woman inside her locked room at the 6300 block of St. Albion Way. The woman reported that her male roommate had potentially fatal stab wounds and that the suspect, also a 20-year-old man and former MTHS student, fled on foot. 
Police said the man later called 911 and told police he had killed his friend. The suspect later turned himself into police and was booked at the Snohomish County Jail.
The family declined to comment at this time, but said a public memorial service is scheduled for April 7. You can find the details about the memorial service here. 
Frank Hume, also a 2011 MTHS graduate, remembered Jackson as one of his "best friends from high school," and as "an amazing person."
Hume and Jackson were in the MTHS Jazz 1 Music Ensemble together, where they became great friends. Hume said just last year Jackson and he played in a band together again at Shoreline Community College.
"He was a great friend, great musician and was capable of being an amazing person, and he was," Hume said. "[Jackson's death] is just a big loss to the community…he will be missed."
MTHS students, staff and families have taken to social media to express their sadness and memories of Jackson.
On the MTHS BANDS Facebook page, band director Darin Faul called Jackson's death a "tragedy," and remembered Jackson as someone who had a passion for music and, "was always great to be around."
"Our thoughts and prayers are with his family and friends. His death is so sad and impossible to understand…He will be missed," Faul wrote on the Facebook post.
The Hawkeye will continue to bring you the latest developments as they are made available.
RELATED STORY: Police say drugs a major factor in former student's death. Read the article here.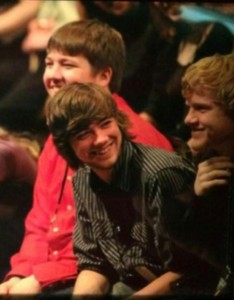 About the Writer
Nick Fiorillo, Editor-in-Chief
Nick Fiorillo is the Editor-in-Chief of the Hawkeye and thehawkeye.org. This is Nick's second year of serving as editor. Last year, he led the Hawkeye in one of the organization's most dramatic transformations in decades, replacing the broadsheet newspaper with a feature based newsmagazine and an emphasis on online content.
Prior to serving as editor-in-chief, Nick was the local news editor during his sophomore year and was a staff reporter during his freshman year.
Nick was named as the 2014 Free Spirit Scholar from Washington state, and traveled to Washington, D.C. as the Washington state delegate to the 2014 Al Neuharth Free Spirit and Journalism Conference. He has received several state and national awards for journalism, including several JEA National Write-off Competition Awards. He was recently awarded the rating of "Superior" for Editorial Writing at the Spring 2014 JEA/NSPA High School Journalism Conference in San Diego, Calif.
His interests include journalism, politics, public policy, law and education. He plans on attending a four-year university and majoring in political science and social policy.
You can view his pressfolio here.
Twitter: @nick_fiorillo
LinkedIn: Nick Fiorillo